Book Direct
Learn About The Benefits of Booking Direct With Suncoast Islands Real Estate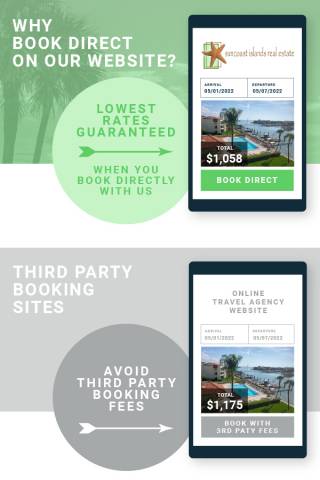 There are many advantages to booking directly with Suncoast Islands Real Estate. From avoiding extra fees to having access to a trusted local expert, booking direct can save you money and stress. Booking directly is important to us because we know how important your time on vacation is to you.
At Suncoast Islands Real Estate, we are determined to be sure that you are getting the most out of your vacation and make planning your trip a breeze! 
Skip the Extra Service Fees
When you book your vacation with an online travel agency, you end up paying extra service fees that you don't see until the checkout page. These websites claim to have the 'best rates,' but you'll always pay less when you book directly on our website.
Visit our vacation rental search page to find your ideal accommodations.  We have a secure and simple checkout process available 24/7. You can also call our team at (727) 866-3755 or contact us for more information.
Friendly Customer Service
Whether you need dinner recommendations or help with something in your vacation rental, our staff is here to help. You can rest assured when you book your stay with us that you have a real person to answer any questions and assist in any way. Visit our area guide information to help you plan your vacation to Tierra Verde and the greater Tampa Bay area! 
Local Knowlege About the Entire Clearwater Area
With our team based locally in the St. Petersburg/Clearwater region, we have extensive knowledge of the best things to do and see in the area. No matter what you're interested in doing while you're here, our team is eager to help! We'll let you in on the best hidden gems throughout Tierra Verde, St. Petersburg, Clearwater, and greater Tampa Bay region. Give us a call today at (727) 866-3755 for assistance. 
Contact the Suncoast Islands Real Estate Team